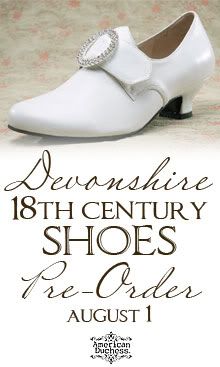 The fabulous leather version of the equally fabulous silk shoes designed by the lovely American Duchess is up for the long-awaited pre-order! It began August 1 and will run until August 10. Lucky folks who participate in the pre-order will get a special discounted price of $100 per pair!
As said by the Duchess herself, "The
Devonshires
are a leather
18th century shoe
based on museum examples from the 1760s through 1780s. They're made of top-grade dyable leather, with a beautiful, smooth Italian leather sole for dancing, and are hard-wearing, water- and mud-proof, for even the toughest of outdoor re-enactments."
Did I mention this is a limited run of only 200 pairs??? Act fast, ladies!